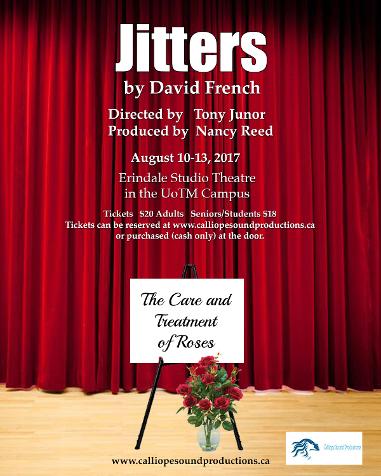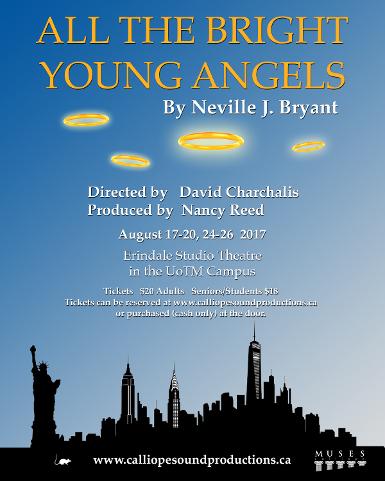 Jitters
By David French
Jitters is a play within a play, "The Care and Treatment of Roses,". This is only the second play by a young playwright who has worked tirelessly to finish. The play is now in final rehearsal by a Canadian theatre company. Yet this production is not going smoothly. The star of the show is in a war with her leading man. He resents her for spending most of her performing life in the U.S. And he is fearful that the show could be a success and have to venture out of his comfort zone and cross the border. Another one of the actors is having anxiety about being found out that he is a fraud of an actor. There is a veteran character actor who cannot retain his lines; the young male juvenile, winds up getting to drunk to perform. Holding the reins of the show is the director trying to keep it all together but finding it falling apart just the same.
All the Bright Young Angels
By Neville J Bryant
Take four girls and place them in a small New York apartment. Throw in a nosey landlady, a senile neighbour and two overbearing mothers. For a little spice, add one young male. And finally, for flavour, one small mouse named Hector. And what have you got? A recipe for comedy!! A funny and endearing play from Oakville, Ontario native, Neville Bryant.
Show Times:
Thursday, Friday and Saturday 8pm, Sunday 2pm (matinee)
Ticket Prices:
Adults: $20.00

Seniors/Students: $18.00

Children 12 and under: $15.00
Tickets will also be available at the theatre box office one hour prior to show time. All door sales are
cash only
!
All shows are held at the

Erindale Studio Theatre:

3359 Mississauga Road North
University of Toronto, Mississauga Campus.