The Muses produce women-centric plays during the summer season!

The Muses are:

Manuela Junor – Treasurer, Secretary
Lori Koenen – Co-Fundraising, Co-Director

Helen Conway – Membership
Susan Turnbull – Assistant Producer
Nancy Reed – Producer and/or (Co-) Director

Katherine Mackenzie – Publicity, Social Media, Fundraising
Lynn Jones – Co-Treasurer, Assistant Stage Manager, Assistant Director, Producer,
Mary Lynn Merklinger – Advertising, Program Design, Director

Calendar Girls
By Tim Firth
Directed by Megan Scarborough
A group of Yorkshire women spark a global phenomenon by persuading one another to pose for a charity calendar with an alternative twist. The ordinary Women's Institute becomes extraordinary as tea-cozies and jams are re-purposed and the women shatter expectations by baring it all. As interest snowballs, friendships are put to the test and the CALENDAR GIRLS find themselves revealing more than they'd ever planned.
CALENDAR GIRLS is based on an uplifting and very inspiring true story that is quirky, poignant and hilarious. Based on the Miramax motion picture by Juliette Towhidi and Tim Firth
Show ran fromAugust 9th to 17th, 2013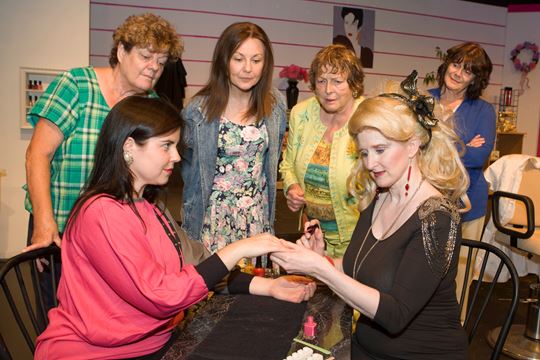 Steel Magnolias
By Robert Harling
Directed by Marilyn Nichols-Dahan
This classic story is one of friendship and trust serves up a southern platter of life that's as warm and comforting as a slice of sweet potato pie. The setting is in rural Louisiana where everyone knows everyone and their business. The story develops over the course of three years as the six women deal with the ups and downs of life. Sometimes comedic and sometimes heartbreaking this show has it all and more.
Steel Magnolias is presented by special arrangement with Dramatists Plays Service, Inc., New York
Show ran from August 8th-16th, 2014